ELECTRICAL HOME INSPECTION: WHAT YOU SHOULD KNOW
Whether you're buying a home, or just moving in to your new home, here is some advice that can help you. If you're in the buying process the things you will be looking for are safety and repair aspects. Most electrical contractors can offer you an inspection to check for both of these. If you are thinking to yourself right now that you have or are going to hire a Home inspector, think again. A home inspector does a generalized inspection. Most of them will know a little about a lot of different areas, but be an expert in none with a few exceptions. It is a certainty in most areas to say you will be forced to hire one to get a mortgage, and that's a good thing. If you hire an experienced licensed electrician, your electrical inspection will be more thorough and you can get an estimate to what repairs will cost at the same time.
When buying a home you'll want to know what if any defects there are, or safety hazards. Items that rate high on the list are things like aluminum wiring, GFCI receptacles, grounding and water leaking into service parts. The two of these that are most critical, dangerous and expensive are the aluminum wiring and water leaks into the main service. If you are just moving into a home you purchased, there are some things you can do to be sure your electrical system is safe. I highly recommend that all the devices be changed to new ones. This would be all the switches and receptacles. There is a reason for this. Most electrical problems occur when termination points become loose or corroded.
By having the devices professionally replaced, you can nip any of these problems before they occur. The other item to consider changing is light fixtures. This can be a bit expensive so if it isn't in your budget try to at least change the very old ones. The reason for changing these is older fixture wires tend to get very brittle. If the bulbs used in them over the years were of an improper wattage, this can exaggerate the situation, a very common occurrence.
The peace of mind you will get, knowing a professional electrician in the electrical field inspected your home, is well worth the money spent.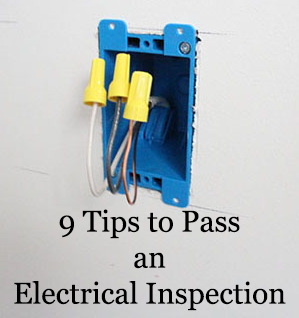 When Do You Need to Get an Electrical Inspection
An electrical inspection will ensure your home or business's wiring and other electrical components are in good working order and do not pose a hazard to yourself or your family.
A comprehensive electrical inspection may involve the following:
Determining any electrical hazards
Checking for uncovered permanent wiring
Checking for any exposed wires
Checking for outdated wiring
Testing safety switches
Examining the power box
Checking safety switches
Testing power points and lighting
Evaluating the level of electrical service
Assessing whether the home includes any DIY wiring
Noting the location of smoke alarms and testing them
Scanning for any electrical items that don't comply with current government regulations
Knowing exactly when you need an electrical inspection done on your home can be tricky, which is why we've compiled a list of occasions where you may need an electrician to come and take a look at the electrical system in your home.
BEFORE YOU COMMIT TO BUYING A HOUSE
IF YOUR HOUSE IS OLD OR YOU HAVE ANY CONCERNS
IF THE HOUSE IS OVER 25 YEARS OLD.
IF YOU HAVE OLD WIRING.
IF ANY DIY WORK HAS BEEN CARRIED OUT.
AFTER A MAJOR STORM
Preparation before a storm
There are several precautions you can take to ensure that your house is prepared for a major storm:
Make sure safety switches are installed on all circuits in your switchboard and test them to ensure they are working properly.
Switch off and unplug all critical appliances that you don't need to use.
Consider installing a surge protector to reduce electricity spike damage and help with general power surges, this will protect your appliances like those expensive televisions, A/C units and computers.
Steer clear of all electrical cables, lights, appliances, fixed wire phones or any conductive materials during a storm.
After a storm
Following a storm, you should take the following actions if your home has been affected by storm damage:
If your property has been flooded over power outlets, electrical wiring or any other electrical installations such as switchboards, organise a licensed electrician to check the premises as soon as the water subsides. Do not attempt to touch or unplug any appliances in the meantime.
If any electrical appliances were affected by water during the storm, have them checked by a licensed electrician before use.
If your electricity was disconnected during the flood, you will require a certificate of test from a licensed electrician before the Distribution Entity will reconnect the power.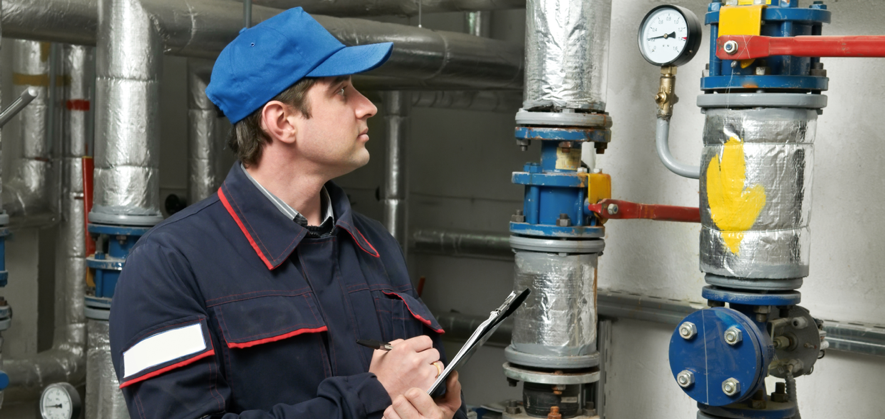 9 Tips for Passing an Electrical Inspection
If you are considering attempting your own electrical work on your next project, I implore you to apply for electrical permits from your local government.
Applying to do my own work was a simple process.  In this case, all I did was fill out a couple of simple forms where I stated my name, address, the scope of the work being performed (adding 4 recessed lights) and the estimated cost of the work related to the permit.  After about two weeks, the township called me and let me know my permit was approved and ready for pickup.  I paid a $61 fee to the township and got started on the rough-in work.  Once I complete the rough-in work, I schedule the inspector and he pays me a visit.
The most anxiety inducing part of this process is the rough-in inspection, but if you follow these general guidelines, you'll be much more likely to pass the first time.
Ask the Inspector First. When you schedule the inspector, try to actually have a conversation with him or her about what they expect to see and what pitfalls you can avoid.  All inspectors should be looking for the same checks, but some have additional requirements or pet-peeves that can fail you.  Checking with them first is a great way to establish a name to a face and get a sense of their general requirements.
Don't Add Any Devices. During the rough-in inspection, there can't be any devices on the circuits you are adding. No outlets, no lights, no switches, nada, nunca.  If you are adding an outlet to an existing circuit, then the NEW outlet should also not be installed either.  The rest of the outlets on that circuit that were originally there are probably fine, but if you disturbed the wiring in any outlet, it shouldn't have a device for the inspection.
Tie Your Grounds Together. In each outlet or electrical box location, the ground wires should be tied together.  This is something my inspector noted today.  Don't tie anything else together though.  The hot and neutral leads should remain separate.
Fire Block. Any holes or penetrations from one floor to the next or from one wiring passage to the next needs to be blocked so as to prevent a fire using the hole as a breathing hole or chimney.  Typically, you can use fire block expanding foam (which is bright orange in color) or regular fiberglass insulation to fill or plug these kind of holes.
Plug Holes in Boxes. This one was new to me and I'll have to fix it.  The electrical box I used have these bendable tabs where the cable enters.  Well one of these tabs snapped off.  The inspector told me I need to plug it.  I'll probably use insulation and jam it in the hole here.
Use Correct Breaker. Another correction I'll have to make is the circuit breaker I installed.  The breaker in this application needs to be an 15 amp Arc Fault Circuit Interrupter (AFCI) and I had installed a regular 15 amp breaker.  The AFCI's prevent arcs and are required on all circuits that feed living spaces (I think).  You can buy AFCI's in any hardware store and they are several times more expensive than regular breakers.
Don't Power the Circuit. Although the wires for the new circuit can be tied into the new breaker, the breaker needs to remain off or unpowered.  It shouldn't be powered up until all the devices are installed.
Cover the Wires with Wire Nuts. All the wire ends need to have wire nuts on them even if they don't have any exposed conductor.  Same goes for the ground wires.
Secure Cables with Staples. Cable runs need to be secured to framing every so many feet with cable staples.
That's pretty much all I have for the rough-in inspection.  If you have any others, please leave them in the comments.  If you've never done your own electrical work, then I suggest you work with someone more experienced before you attempt it yourself.  Be safe and good luck.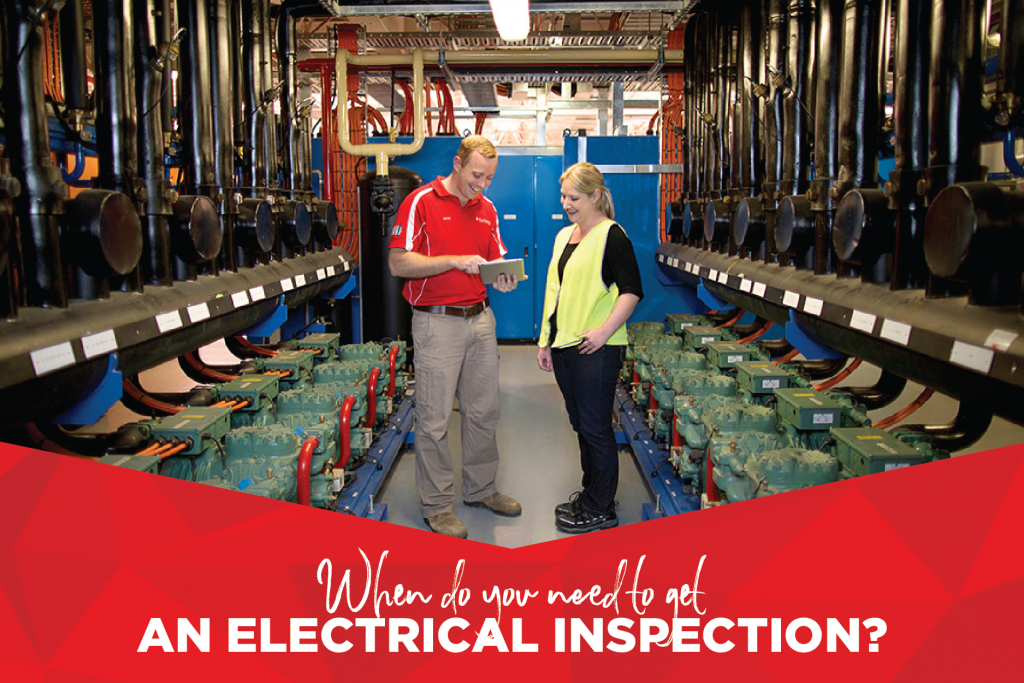 How often should you have an electrical check?
How often you should get an electrical check will depend on how old your house is and the number of appliances it supports. Older houses may have an outdated electrical system which can't support certain appliances and increasing loads.
A periodic inspection involves conducting checks and associated testing to see if the electrical components of a house are working optimally. After the required inspection and testing, an Electrical Installation Condition Report will be issued. The report shows any observed defects, damages, unsafe conditions, and any non-compliance with current safety standards that could lead to danger.
It is often recommended to get an electrical check every 3-5years. You also need to update your electrical system, when necessary,to keep up with recent safety standards, even if you have a relatively new house.
To maintain adequate safety standards, periodic testing and inspection should be carried out as follows:
Every 5 years, at least, for businesses
Every 5 years, or during every change of occupancy, for tenanted properties
Every 10 years, at least, for private homes
You will know that your electrical system is inadequate when you start experiencing any of the following:
Fuses constantly blowing
Outlets and switches no longer working properly
Tripping circuit breakers
Your electrical outlets are two pronged instead of three pronged
Lights flicker when an air conditioner, heater, or some other appliance is turned on
Regular checks should be carried out around the house to monitor the condition of sockets, switches, cables, and other accessories.  Once anything unusual is noticed, such as circuit breakers tripping or fuses blowing, crackling or buzzing, or burn marks on sockets and plugs, a registered electrician should be contacted to conduct an electrical check immediately.Various factors can lead to the wear and tear of electrical installations, including how the property has been used and the materials that the installations are made of.
When an electrical check is done and it is discovered that a rewiring is needed, it is recommended to remove redundant wiring. To avoid any risks, all redundant wiring must be disconnected permanently from any electrical supply if it is not possible to have it removed. There are no set rules as to when a property should be rewired. Rewiring should not be done just because the wiring of a house is old. As long as it meets safety conditions and is in good shape.
For caravans and swimming pools, there should be more frequent periodic electrical inspection and testing as follows:
Every 1 year for swimming pools
Every 3 years for caravans
Failing a Home Inspection
The areas that cause the most trouble on a home inspection report are those that compromise the health and safety of people living in the home. Here are some examples of ways that a home could fail an inspection:
Moisture in the Basement: Water intrusion is a possibility in most basements simply because they are below ground level. Water in the soil puts pressure on basement walls and since it follows the path of least resistance, will cause a wet basement over time. A damp basement can cause spalling in concrete, brick or stone and it can cause mold as well. Solutions range from redirecting gutters to installing a sump pump in the basement.
HVAC Problems: HVAC systems are the source of many problems uncovered by home inspectors. For example, the home's wiring may not be sufficient to handle the demands of the heating and cooling equipment, gas-fired furnaces may not have adequate exhaust systems in place. Other problems include cracked ductwork and flue pipes that have not been correctly installed.
Roofing Problems: This is one of the more expensive problems to fix and is likely to be a deal breaker for potential buyers. As roofing materials age, they are more likely to break down causing leaks and water damage; furthermore, they tend to age more quickly if they are not correctly installed. For example, asphalt and wood shingles can cup or curl due to age.
Moisture Problems in the Attic: Poor insulation, ventilation or vapour barriers can lead to moisture in the attic. Moisture in the attic can cause mold and mildew to grow. Solving the problem involves finding and fixing the source of the moisture.
Electrical Issues: A home's electrical service should meet current standards. Electrical problems inspectors often encounter include overfusing, which is the term used for a mismatch between the wire and the overcurrent protection. Overfused circuits can cause fires.
Rotting Wood: Any wood used in the home's construction can be affected by moisture and age. This includes your wooden decks and door frames. Inspectors will check wood surfaces in the home for rot.
Security Issues: This is not about your security system; this part of an inspection involves checking out your more basic safety features. An inspector will look for proper window and door locks as well as smoke and carbon monoxide detectors.
Problems with the Structure and/or Foundation: One of the basic facts of construction is the fact that a stable foundation is essential to the building's structure. The inspector will look at the footing and foundation of the home. Signs of foundation issues include cracks in walls and doors that fail to latch or that jam.
Plumbing Problems: It's rare for an inspector not to not find at least one plumbing problem. These can include anything from dripping faucets to slow drains. Fortunately, these issues are usually easy and inexpensive to fix. It's major ones you need to worry about.
Defective Masonry: Chimney cracks are among the most common masonry problems. In most cases, these occur over time due to the weather. If the inspector discovers cracks that start at the chimney's base and go upward, there could be a serious structural problem.
The good news about a failed home inspection is that almost any problem can be fixed. Mold can be remediated and a qualified electrician can remove and replace amateur wiring. The best option for a seller who has had problems uncovered by an inspection is have them fixed. The other option is to not fix the issues and to sell the home at a lower price. The problem with that second option is that the seller may inadvertently discount the home for more than the cost of repairing the issues. Also, homebuyers may be reluctant to invest in a property that will need immediate repairs.