Can electrical circuits be added to current fuse box?
If we do a loft conversion and add new electrical circuits, can these be added to a fuse box which was fitted in 2014 (plastic) which has space? Or does this new circuit require a new metal cased fuse box? What is required to pass building regs?
would replace the fuse board with a new metal one which is up to regulations. Your electrician may also add an additional new board separately to your old and running a separate circuit just to the loft. Without viewing your job first would enable us to advise fully.
Yes, electrical circuits can be added to a fuse box if certain conditions are met, e.g age of Installation, spare ways available, total current demand will not exceed your main fuse rating e.tc. Some Installations will meet all of these conditions especially if your Installation is Inspected and tested periodically.
It will need to comply with current regulations so you could have a separate RCD Board for the Loft conversion which means you do not have to change whole fuse board
You can add them to this board as long as the regulations at the time of installation where met. The whole board will need to be tested and certified if a new circuit is added though, so whilst this is being done it is often not a bad idea to upgrade to the latest specification board.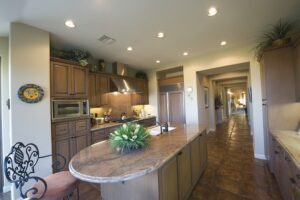 How to Design Electric Circuits and Wiring Plans for Your Kitchen
In a typical home, the kitchen has the heaviest electricity consumption. Since you need to plug in multiple appliances that have different electrical power requirements, create a wiring plan before buying construction electrical material and equipment, or building electric circuits for space.
Unlike other rooms in your home, you cannot use a single circuit to provide power to different electrical fittings and appliances in the kitchen. If you're planning a major kitchen remodel or building a new home, common kitchen appliances will need separate electric circuits in your electrical wiring plan.
Refrigerator
While you might have a small refrigerator plugged into a general electrical circuit designed for lighting or small appliances, newer models typically require a dedicated circuit. Add a 120/125-volt, 20-amp circuit for a refrigerator in your wiring plan, and make sure you're using 12/2 NM electrical wire with ground.
Dishwasher
Dishwashers require almost the same kind of electrical circuits as modern refrigerators with slightly lower amperage, i.e. 120/125-volt, 15-amp, and you need to use 14/2 NM electrical wire with ground. If you're planning to power a garbage disposer with the same circuit as a dishwasher, use a 20-amp circuit. Install a slightly longer wire than needed, so the dishwasher does not need to be disconnected completely while being pulled out and serviced.
Electric Range
While a gas range uses a 120/125-volt electrical circuit, you need to install a 240/250-volt, 50-amp circuit with 6/3 NM electrical cables or #6 THHN electrical wire in a conduit for an electric range. Position the receptacle keeping in mind that the range will need to be pushed back to the wall. Even if you aren't currently using an electric range, include a dedicated outlet for it in your kitchen wiring plan. It will help if you decide to switch to an electric range in the future, or even put your property up for sale!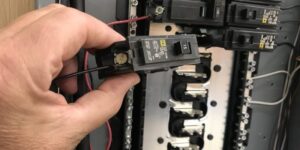 How To Add A Circuit And Satisfy Your Lust For Power
Getting nervous because the lights dim and flicker every time the fridge kicks on? Finally got that new table saw, but the breaker trips every time you fire it up? Sounds like it might be time to add a circuit. With a few simple tools and supplies, a bit of electrical knowledge, and a LOT of caution, it's a fairly simple project. We'll show you how to add a circuit to your existing circuit breaker.
Be aware that it can be dangerous to add a circuit. It involves removing the cover from your breaker box, and working near live wiring. If you're not REALLY careful, it can kill you, which would likely put a damper on your whole project. If you're uncomfortable doing this type of work, or you're fairly accident-prone – or you really do have lights that dim and flicker – call in an electrician.
Tools And Supplies You Need To Add A Circuit
There are two types of cable, commonly known as Romex, most frequently used in household wiring. Lighting or other relatively light-duty circuits generally use 14-gauge wire. For appliances and other circuits where there will be higher current draw, 12-gauge wiring is typically used. Both are readily available at home centers and hardware stores, as are these other tools and materials.
Wire strippers
A hammer
A drywall saw (for old work)
Regular and Phillips head screwdrivers
Outlet boxes, either old work or new work
Outlets and switches for new circuit, either 15-amp or 20-amp
Romex cable: 14-2 for lighting circuits, 12-2 for tools or appliances
Wire staples
A cable clamp, one for each circuit being added
Wire nuts or push-in connectors
A circuit breaker compatible with your breaker box. Get a 15-amp breaker for 14-ga. wire, a 20-amp breaker for 12-ga. For outdoor or damp locations, GFCI breakers are available, and may be used in place of GFCI outlets.
I'm Not Yanking Your Chain – It's Easy To Add A Circuit!
On a recent project, I added 25 four-foot LED shop lights in my new shop building (stay tuned, that article is up next). Even though LED lights are very energy efficient, if I'd added them all onto an existing circuit, my new nickname would probably be "Sparky."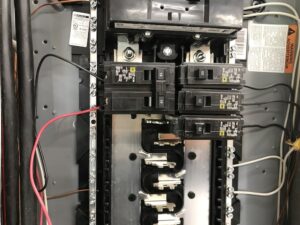 How to Wire a Simple 120v Electrical Circuit
Hiring an electrician is usually the best way to go where 120 volt circuits are concerned, but if you are up to it, you might save money by doing some basic electrical work yourself. This article covers the steps for installing a simple 15A (15ampere) circuit with one receptacle.
Turn off the power feeding the panel you are going to be working in. It may help to take a few minutes to familiarize yourself with all of the tips in the related wikiHow article on "How to Master Do It Yourself Electrical Safety". Shut off all the individual circuit breakers in the panel and then shut off the main switch that supplies power to the panel. This is preferable as it is much safer to operate many smaller current devices, one at a time; than to operate a single, large current device just once. When all the smaller circuit breakers are off, the amount of current flowing through the larger 50, 100 (or more) amp circuit breaker should be zero
This wikiHow is about wiring a simple electrical circuit. It doesn't cover the following information, which may vary depending on the type of installation you are doing, and the type of existing wiring you may be connecting to.
Choosing and installing electrical boxes.
Selecting and installing conduit.
Upgrading an existing electrical panel box to accommodate a new circuit.
Look at the following requirements that must be considered before proceeding with this project. These are beyond the scope of this article, so these items should be addressed before starting.
You will need to get and install the receptacle (junction) box. For flush installation in a drywall wall, you may choose a cut in or repair type, for other installations, a surface mounted cast aluminum or PVC weather resistant (damp location) box may be applicable.
You will need to determine the path for the wires between the receptacle box and the electrical panel box.
You will need to install conduit if you use single insulated wires.
Install the actual wires if you use a non-metallic cable (Romex).
Measure the distance from the electrical panel box to the location your new outlet will be installed, following the path you have selected, and trying to determine the actual distance the wire must run. Allow a little extra for corners, especially if you are installing in conduit, since these have ride radius curves for turning sharp angles. Also, allow at least 24 inches for hooking the wires to the breaker or fuse block and neutral and ground terminals in the panel box, and 6 or 8 inches for terminating in the receptacle box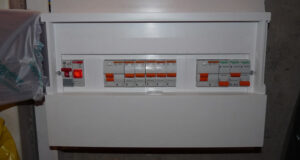 Cost to Replace a Fuse Box or Consumer Unit
Trying to find out how much a new fusebox costs? In this article we discuss the price of replacing and installing a new consumer unit in terms of labour and installation costs.
How Much Does It Cost to Replace a Consumer Unit?
The cost of replacing a consumer unit depends on how big your house is and which type of consumer unit you choose. For most homes, a high integrity consumer unit that can carry ten circuits at 100A is the best choice
Consumer Unit Prices
The cost to replace a consumer unit varies depending on the number of circuits and the type of unit
Cost Based on Number of Circuits
These prices are based on different numbers of circuits in a High Integrity consumer unit at 100A, as this is the most popular option
Labour Costs and Timescales
The cost of labour and the length of the job will depend on how many circuits your home is split into. The large your home, the more circuits there will be. Normally there are individual circuits for the lights and sockets on each floor. Then separate circuits for each bathroom and the large appliances in the kitchen. The specifics will depend on how your home was wired.