Hardwood vs. Laminate Wood Flooring
When deciding between hardwood vs. laminate flooring, there are several pros and cons to consider. Sure, when comparing laminate vs hardwood cost, laminate is usually the more affordable option. But you also must look at durability, resale value, cleaning, installation and more. This article will compare some of the factors between hardwood vs laminate flooring and help you decide which is best for your home.
Laminate vs. hardwood cost
The reality of flooring costs and what you can afford may be miles apart. Take into consideration the cost of laminate and hardwood flooring to determine what is best for you.
Hardwood: CONS – Hardwood flooring is made of harvested trees; pricing depends on the type of wood you choose. In general, hardwood is considerably higher to buy and to install.
Laminate: PROS – Laminate wood flooring is made from composite wood pressed together at high temperatures. The image of hardwood is then placed over the composite wood, covering it to form the laminate. Not only are the materials themselves cheaper, but laminate wood installation cost is, on average, 50 percent less than hardwood installation.
Laminate flooring can cost $3-$7 per square foot, including installation. Solid wood flooring can cost $5-$10 per square foot, including installation. Again, the exact prices will vary depending on the types of materials used and the size of your home.
Laminate vs. hardwood durability
Assess the traffic load and wear and tear on flooring in your home. A more durable surface is easier to maintain and will look great for years to come.
Hardwood: CONS – Hardwood is susceptible to scratching, can get damaged from excessive moisture and will show wear, especially in heavily trafficked areas. PROS – Hardwood is the real deal; it is gorgeous and, depending on the type of wood, can add considerable value to your home.
Laminate: PROS – Since laminate is made from pressed wood, it is more durable and resists scratches, moisture and wear and tear. Laminate flooring is also easier to clean. CONS – Even though laminate is more durable, it is not as visually appealing. Lower qualities of laminate may have artificial-looking wood grain textures.
Laminate vs. hardwood repair
Your home's flooring will typically need repairs at some point. From minor accidents to excessive wear and tear, laminate and hardwood have advantages and disadvantages.
Hardwood: PROS – Hardwood can be repaired by sanding imperfections and refinishing. This gives it the edge over laminate, in that it will last for years.
Laminate: CONS – Laminate flooring doesn't repair easily. If you buy flooring that comes in individual pieces and snaps together, you may be able to replace individual boards — although, depending on sunlight and age, the new piece may not match properly.
Best places for hardwood vs. laminate flooring
In addition to price, durability and repair, you should also consider the best (and worst) places in the home for both types of flooring.
Hardwood: Hardwood flooring is both beautiful and fairly durable, especially in lower-traffic rooms like bedrooms and dining rooms. But, if you have pets or a lot of foot traffic, your hardwood floors might show the scratches and wear overtime. Basements and bathrooms with a lot of moisture are also not good places for hardwood flooring. On the other hand, continuous sunlight can fade your hardwood flooring overtime as well.
Laminate: Because laminate flooring is so durable, it's less susceptible to wear and tear from pets and foot traffic. While it withstands moisture better than hardwood, it should not be in a regularly wet area of the home. Because of its top coat, laminate flooring typically does not fade from sunlight as quickly and noticeably as hardwood flooring and can be used safely in rooms with large windows.
Your home will benefit from the look of wood flooring; deciding between hardwood vs. laminate flooring is up to you. Review the pros and cons, and be realistic about your lifestyle; if you have pets, young kids or high traffic, that may influence your decision.
If you have a lot of sunlight in your home, hardwood can fade because it is a natural product, while laminate wood flooring has UV protection integrated into the surface. Consider all the factors — and enjoy how the warmth of wood will improve your home's aesthetic appeal and value.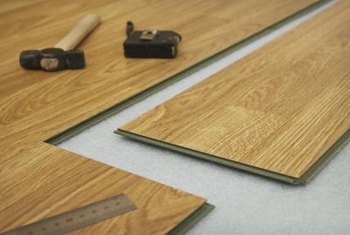 Durability Vinyl Plank vs Laminate Flooring
Consumers often turn to vinyl plank or laminate flooring to get the look of hardwoods without the risk of scratches, dings, and other flaws that can be time-consuming (and expensive) to repair. One of the primary benefits touted by both vinyl plank and laminate flooring is durability. How do these two types of flooring hold up when put to the test?
Vinyl plank (LVP) holds up well under pressure. Unlike hardwoods, it isn't prone to scratching from animal claws or active children running through the house. It's very durable, even with the heaviest traffic.
However, because vinyl plank is softer than hardwoods or laminate, it isn't completely immune to damage. There is a risk of ripping the plank. For example, if you're dragging furniture across the floor, planks can be torn.
Vinyl flooring is prone to damage that harder floors can withstand. It can dent over time, particularly in areas under heavy furniture. While it is quite durable, it's important for anyone planning to purchase this type of flooring to know it's not completely immune to damage and is vulnerable to the same flaws as traditional vinyl flooring.
Laminate flooring, like vinyl plank, is also extremely durable and is a good choice for homes with children and pets. It is extremely resistant to damage and will not have to be refinished over time like traditional hardwoods.
However, it is possible to scratch or chip laminate flooring. Very heavy wear over the years can result in minor scratches on the flooring. Luckily, laminate repair kits are available online and at home improvement stores to improve the appearance of chips and scratches.
Laminate flooring is superior in terms of fading. While laminate can fade when exposed to sunlight over long periods of time, it is more resistant than vinyl flooring. With both types of flooring, shades or blinds should be used in rooms with a lot of sunlight, and area rugs can also be used in brighter spots that may be more apt to fade.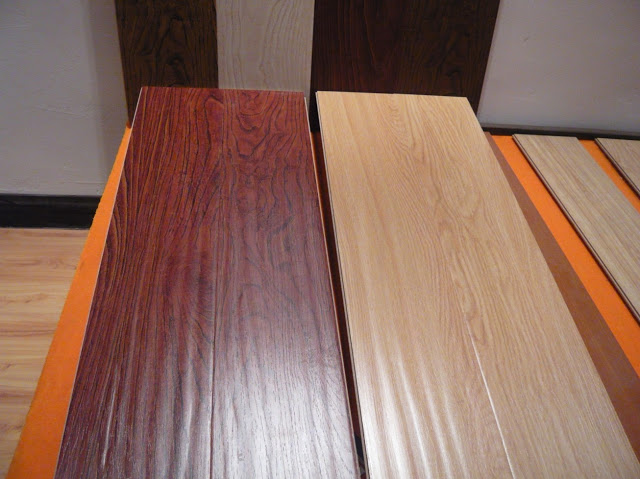 How Long Will Laminate Flooring Last?
When choosing laminate flooring, you need to consider wear ratings along with price and style. In laminate flooring, a wear rating is an indicator of how well the floor will stand up to daily wear and tear. Modern laminate floors are attractive, versatile and durable, but they can be scratched or gouged. All laminate flooring has a wear rating denoted by an AC, "Abrasion Class," followed by a number. There are five AC ratings for laminate floors, ranging from AC1 for low-traffic areas to AC5, meant for commercial use.
AC Ratings
Abrasion Class (AC) Ratings are broken down into five levels, labeled AC1 through AC5. Levels AC4 and AC5 are appropriate for commercial use, while AC1 through AC3 are residential. The AC Ratings are as follows: AC1 is for home use with minimal traffic, like bedrooms or closets. AC2 is suitable for moderate-traffic home use like living rooms and dining rooms. AC3 is best for higher traffic and heavy-use residential areas like kitchens or laundry rooms, and can be used in light commercial applications like small offices or hotel rooms. AC4 is designed for light commercial use like small shops, and AC5 is the heaviest rating, used in larger commercial settings.
Layers of Laminate
Wear ratings denote the durability of the wear layer. Laminate floors are made in layers, and the wear layer is typically filled with aluminum oxide, or sometimes melamine, and it's what helps the floor stand up to daily use. The wear layer is also what prevents fading and makes the floor easy to clean and stain resistant. The decor layer is the printed image that recreates the look of natural stone, wood or tile. The core layer is really the foundation, creating structure and dent resistance, while the backer layer adds additional support and stability.
The Wear Layer
The wear layer is the top layer of the laminate floor; it's what chairs get dragged over and people walk on and drop things on. It's what takes the "wear" of life. Higher wear ratings translate to a longer life for your laminate floor and a higher price tag than lower wear ratings. Each rating number represents a 60% increase in wear over the previous one: AC2 is 60% heavier wear than AC1, for example, while AC3 is 120% heavier wear than AC1. Higher wear ratings can cause a slightly cloudy look from a thicker layer of aluminum oxide, which can dull the appearance of the decor layer.
Choose Your Rating
Lower AC ratings may be less expensive, but it's a good idea to look at lifetime use. How long a floor will last depends on many factors, including level and type of traffic and how it's maintained. In a household with pets or small children, a higher AC rating will provide longer floor life, while a room that gets little use would be fine with a lower rating. Manufacturer's warranties start at 10 to 15 years, and many go as high as 25 or 30 years for higher wear ratings. When choosing the right wear rating, look at budget as well as lifestyle and budget for repairs and replacement down the road before deciding what's right for you.
Expected Lifespan
The average lifespan for laminate flooring is between 15 and 25 years, but it can vary from as short as 10 years to as long as 30 years. The difference in life expectancy depends on the quality of the flooring, whether it was properly installed and the amount of traffic it receives. Improper maintenance, such as using harsh cleaners or failing to wipe up spills, can reduce the floor's longevity. Laminate flooring does not last as long as hardwood flooring, which can have a lifespan of around 75 years if properly maintained. It also cannot be sanded and refinished like wood. Once the top layer wears away, it must be replaced.
Is Thick Laminate Flooring Better Compared to Thinner Laminate Flooring?
Benefits of Thick Laminate Flooring
One of the benefits of thicker laminate is its higher sound dampening performance. This is simply because it contains more of the high density fiber (HDF) core and provides less sound transference through the plank. Thicker laminate will definitely offer more stability and strength, so if a little extra cost is not an issue, thicker laminate is definitely worth it. It's also the better option if your subfloor isn't as sturdy, such as an old creaking wood subfloor. The 12mm laminate flooring will provide you with a more sturdy feel when walking upon it.
Benefits of Thin Laminate Flooring
6mm thick floors are ideal for a budget projects, however we suggest to install 6mm laminate flooring over flat cement floors. This way you don't have to worry about the stability of the locking system since the subfloor provides stable support to allow the laminate to float.
A good quality, flat and smooth subfloor is a key when installing thinner laminate flooring. You need a very stable subfloor in order to allow your thinner laminate floor to perform as expected. The price of the thinner laminate flooring is a definitive advantage since it is normally priced lower compared to thicker laminate.
Tips to determine the quality of laminate floors
Inquire about the grade of the product: Quality wise laminate floorings are graded in good, better and the best, three categories. The cost of these floorings rises with the rise in grade. But if you have a restricted budget then you should consider some other factors to find good flooring for you.
Check the finish of the floor: The alignment of the floor should be even. There should be no gaps or unevenness while installing at your floor. The laminate floorings of good quality should provide a seamlessly flat surface.
Check the patterns: If the patterns on the laminate floor do not give a smooth and natural look then it is a low quality floor. The repetition of patterns degrades the quality of the flooring.
Ask about the making process of the flooring: Laminate floorings are made by direct as well as high pressure methods. Though both the methods provide good laminate floorings but the floorings made from the latest technique of high pressure have higher quality than others.
Confirm about ISO rating and UV compatibility of the product: ISO ratings and UV compatibility are the mark of good quality and durability of the laminate floor. It will last for long time without losing its sheen.