How to Get Rid of Squirrels
There are several species of squirrel, but tree squirrels are the most common nuisance for homeowners because they inhabit attics and garages and cause damage. They often gnaw on the exterior and interior walls, timbers, cables, and electric wiring. They have been known to short out electric power transformers due to their activities around power lines. Squirrels are typically discovered because they make a lot of noise in the area they inhabit. The gray squirrel is the most common structure-infesting squirrel species.
Squirrels are abundant in the wild because their numbers far exceed the number of predators. The large population and decreasing natural habitat due to construction in many areas cause them to seek shelter in houses. The chilly months of fall and winter cause squirrels to seek the warmth that is found in attics.
Squirrel Control Recommendations
Removal of any diet source: bird seed for example, because they attract the squirrels is the first order of business.
Using gutter guards and covering downspouts will reduce the number of squirrels that are entering through the rooftop and facia boards.
There are no poison baits on the market that squirrels will eat and die, except Ditrac Ground Squirrel Bait that is only made to control the California Ground Squirrel (found in western states). Typical rodent control bait for mice and rat control will not work against other squirrels.
Live trapping method of trapping squirrels is the only way to remove unwanted squirrels. Catching a squirrel is really the only way to get rid of squirrels in your attic, once they have chewed holes. It is important to seal up and repair all entry points after trapping the squirrels, so they no longer have access.
Trapping Tips
Always use work gloves when handling the traps with a squirrel inside.
Some trappers like to use a technique called "pre-baiting" to gain the squirrel's confidence. Leave the trap out, wired open (so it won't shut) with the bait so that they can get used to the object in their environment. However, most of the time this technique is not needed to trap squirrels successfully.
Place traps where you hear or see the activity. Using a Rat/Squirrel lure (walnut/nut oil based) on a cracker or piece of fruit behind the trip pan is very helpful as a lure. You may also try peanut butter. Next use sunflower seeds on top of that and trail a line of sunflower seeds out the front door of the trap so that there are "free" seeds a couple of feet in front of the trap. This will help overcome any anxiety the squirrels may have about entering the trap.
Exclusion and Relocation of Squirrels
After trapping and relocating the squirrels you can seal the openings with 1/4″ mesh hardware cloth or metal flashing. Look for all possible entry points. If you are not handy with tools, many nuisance wildlife control companies will seal entry points with a year's guarantee for a fee.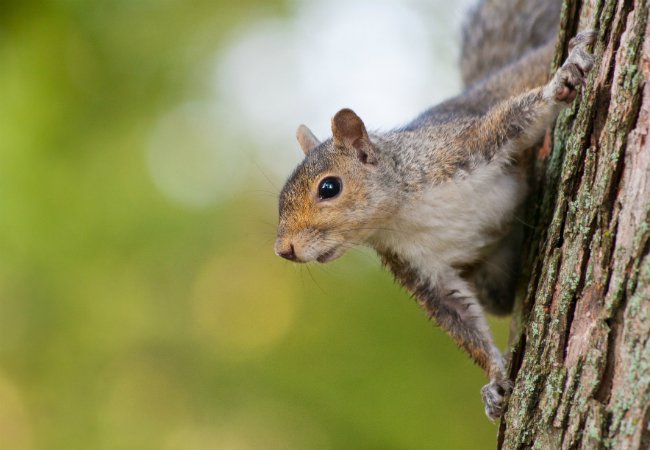 TIPS FOR HOW TO GET RID OF SQUIRRELS IN THE YARD
Squirrels can be a nuisance in the yard or garden by eating fruit, vegetables and birdseed and chewing tree bark. Squirrels also have a way of making their way into your attic or crawlspaces and setting up nests. Here's how to get rid of squirrels in the yard and keep them out of your home.
Don't feed them. If you feed them, they will come. Any food found in your yard is fair game for roaming creatures or those already calling your property home. When you're hanging bird feeders, scattering plant seeds or throwing compostable food scraps into your garden, you create the opportunity for easy meals. You should weigh your enjoyment of bird watching with the potential to attract pests with uneaten birdseed.
Remove what attracts them. The sight and smell of fallen fruit, nuts and seeds lures squirrels. Rake your yard regularly to remove these items from under bird feeders and trees. Use garbage cans with tight-fitting lids to keep squirrels out of your trash.
Scare them. A dog or cat may keep squirrels out of your yard, particularly if your dog chases squirrels. If you don't have a cat or dog, you can place plastic owls around your property on elevated surfaces such as fence posts or the roof to frighten squirrels away. You can also buy containers of predator (wolf or tiger) urine to spray in your yard or garden. The scent scares many animals, including squirrels, deer and rabbits. You need to re-apply the solution after it rains.
Spray them. Motion-activated sprinkler systems may help keep squirrels out of your yard.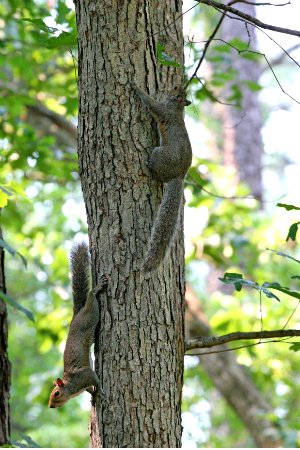 How To: Get Rid of Squirrels
Most of the time, squirrels are completely benign, but in some situations, they can cause considerable damage. If you want to put an end to your squirrel problem, don't miss our five-point action plan.
Don't let the bushy tails fool you. They may be cute and and bright-eyed, but if left unchecked, squirrels can do an impressive amount of damage, not only to your garden, but also to your home (particularly the attic and eaves). While there's no quick and easy way to get rid of squirrels, you can do a number of things to slowly shoo away these mischievous creatures. Whether you're responding to an existing squirrel problem or seeking to prevent one, read on for a five-step action plan.
Focus on food.
If the neighborhood squirrels seem to be more interested in your house than in the one next door, it only makes sense to investigate the reason why. First things first, scan your property for an obvious food source, such as a bird feeder. Even if mounted on a tree or atop a pole, bird feeders are well within reach of squirrels, agile animals capable of jumping eight to ten feet with relative ease. If not going to go great heights in search of food, squirrels are just as likely to dig for it. Garden bulbs, in particular, are vulnerable. In lieu of protecting your flower beds with chicken wire, consider planting strategically placed daffodils. Since these perennials are poisonous to squirrels, they act as effective deterrents.
Prevent passage.
Everyone knows that squirrels are expert climbers. What you may not have realized is that, by banding tree trunks with plastic or metal collars (sometimes known as baffles), you can prevent squirrels from progressing along those routes that afford access to vulnerable areas, such as the overhang of your roof
Opt for odors.
To augment your other efforts, hang ammonia-soaked rags on the branches squirrels seem to favor. Doing so has proven moderately successful for Lindsay Wildlife Museum in Walnut Creek, CA. Alternatively, you can purchase and spread predator urine, available for sale at garden supply stores or home centers. The downside is that such treatments must be reapplied after every rainfall.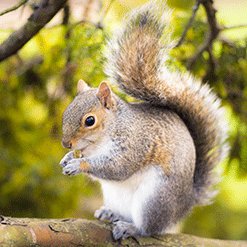 How to Get Rid of Squirrels
Squirrels are funny animals; however, despite the cute looks they have gained a reputation of the well-known pests. The pair of jittery squirrels can grow into an entire army of invasive pests and inhabit your property for a long time. This guide explains how to get rid of squirrels fast. Here you'll find two best ways of controlling squirrels approved by scientists and 10 best products to help you succeed in eliminating your scurry nuisance.
The squirrels literally damage everything they can reach and repairs can get pricey. These curious and naturally inquisitive animals feel fine on your territory all year long. They feed on bird seeds, damage vegetables, and fruits, destroy your favorite flowers, and turn everything upside down in the attic
Start with the area outside your house. It is easier to chase squirrels away from your backyard rather than from the attic or any other space indoors, where rodents usually nest. Remove foodstuff: all fallen fruits, nuts, and other debris from the backyard to reduce food availability for squirrels. Tightly seal garbage cans. Trim the trees and shrubs adjacent to the house and avoid planting new ones, otherwise, their branches will turn into a perfect bridge to your house.
Inspect your house for any openings and cracks in the structure. Seal them with foam insulation or use metal mesh. If squirrels have already established their nests in your house, wait until they leave for hunting and only then block all access points. When applicable, build a fence extended 12 inches below the ground level, so that squirrels can't get underneath.
Since the attic is a prime target for squirrels, clean it up: remove any garbage and foodstuff if you store it there.

How to Get Rid of Squirrels
They dart across the street, scurry up trees, and claw their way through small openings in homes and buildings. Squirrels are among the most widespread rodents in North America, one of the family that includes chipmunks, marmots, and prairie dogs
They have a benign, almost cute appearance with their bushy tails, short arms and legs, and pointed ears. But they can wreak havoc within the walls, crawl spaces, and attics of homes in search of shelter. As they move about, they can even harbor infected fleas and ticks that may transfer diseases.
Gray Squirrel
Though helpful in some ways to the environment, gray squirrels can be quite a pest in highly populated areas. When tree cover isn't available for a habitat, gray squirrels will seek out telephone poles and roof lines. If they gain entry to the interior of your home, they will claw or chew at electrical wiring and wooden supports, leading to structural damage or even a power outage.
Red Squirrel (Pine Squirrel)
The smallest of the tree squirrels (but larger than chipmunks), this species is known for its territorial behavior. This species is most often home in wooded areas dotted with pine trees.
Fox Squirrel
This is the largest species of tree squirrel. With sharp claws and athletic bodies, fox squirrels are natural climbers and will spend most of their days in trees. During that time, they search for food ranging from nuts and flowers to insects and small birds. Fox squirrels build their nests during summer and endure the winter inside trees.