Ways To Make Your Entire Home Cleaner Than It's Ever Been
Zap your damp or wet sponge in the microwave for one minute to kill 99.9% of the bacteria lurking on it.
Both the USDA and Good Housekeeping found this actually works; try to do it at least once a week, if not every three days or so. And if you heard that microwaving doesn't help, well — all those news reports were inaccurate. (It's also essentially equally effective to run your sponge through the dishwasher, on the top rack, with the heat-dry setting, if you prefer to do that instead.)
And let your sponge dry out every single night, whether your use a simple binder clip or a stainless sponge holder.
Wipe up the sticky, dusty buildup that gathers on your range hood and other appliances using a little bit of mineral oil. Just put a little bit oil on a paper towel, and wipe; it'll come off like a charm! If you don't like the oily residue, just use water and dish soap to clean that right up. (You can also use olive oil for this, but if you do, definitely wash it off; otherwise it might go rancid and smell bad.)
Make a paste with water and a polish cleanser to easily scrub off cooked-on gunk from your stainless or enameled gas stove.
Then shine up your greasy stove grates by letting them sit overnight with just a little bit of ammonia. You simply seal them up in a plastic bag and let it do its work — just don't mix ammonia with any other cleaner, and do read the tutorial on The V Spot before you try this at home.
A homemade paste of dish soap, baking soda, and water is probably all you need to spot-clean baked-on stains inside of your oven.
But if you haven't kept up with regular spot or self-cleaning, a spray-on 40-minute spray-on cleaner may be just what your oven needs Don't worry, it's fume-free. Some reviewers mention that they got better results by leaving it in their (open) oven overnight, or by doing multiple coats
Wrap your hard-water-stained faucets in vinegar-soaked paper towels to dissolve the minerals so they wipe off in one go
And banish hard water from your faucets by attaching a plastic bag filled with vinegar, using a rubber band — or if they're heavily stained, substitute the vinegar for a more intense mineral cleaner.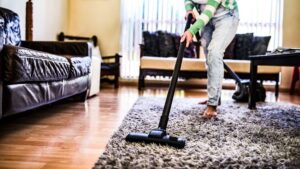 How to Clean a Living Room So You Don't Gross Out Your Guests
How to clean a living room is a question any conscientious homeowner will ponder. Don't your family and guests deserve a pristine place to hang out in? Don't you? This showpiece area of your home cries out for white-glove treatment—but let's get real, no one has white gloves anymore.
How to clean a living room's lights, lamps, and chandeliers
When tackling any room in the house, clean from top to bottom, says Jan Dougherty, author of "The Lost Art of House Cleaning"—otherwise you'll have to clean the floors twice. Therefore, the best starting point in a living room is to look up at its light fixtures. First off, whatever type of lights you have, don't forget to dust the lightbulbs at least once a month—dirty bulbs shed 30% less light than clean ones, according to the U.S. Department of Energy. The best way to clean them is with a dry cloth; don't spray cleaning solutions directly onto the bulb, which could damage it, according to the GE Lighting Institute.
Beyond the bulb itself, hanging lamps and chandeliers can be easily cleaned with a feather duster; crystal chandeliers should be thoroughly washed once or twice a year. If the chandelier is lightweight, you'll want to take it down and lay it on top of a towel spread on a table. Mix 1 ounce of liquid dish soap with a quarter-cup of white vinegar and 3 cups of water. Put the mix in a spray bottle, spray each crystal, and let it dry before polishing with a microfiber cloth.
How to clean leather furniture
Then, to remove spots or stains, dip a clean microfiber cloth in a lather of soap and water and rub the surface; then dry it with a clean towel. To condition—a process that helps the leather stay clean and pliable—use a dab of coconut oil on a cloth and gently rub it in with a circular motion
How to clean upholstered furniture
Upholstered furniture comes with a code that shows what products should be used to clean it. This code can be found on the care tag, which is typically on its underside. Here's a cheat sheet on what the letters on this tag mean:
W: Clean with water.
WS: Clean with water and dish soap.
S: Vacuum and spot-clean only; do not apply water.
X: Vacuum only.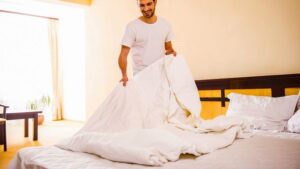 Workplace Housekeeping
Why should we pay attention to housekeeping at work?
Effective housekeeping can help control or eliminate workplace hazards. Poor housekeeping practices frequently contribute to incidents. If the sight of paper, debris, clutter and spills is accepted as normal, then other more serious hazards may be taken for granted. Housekeeping is not just cleanliness. It includes keeping work areas neat and orderly, maintaining halls and floors free of slip and trip hazards, and removing of waste materials (e.g., paper, cardboard) and other fire hazards from work areas. It also requires paying attention to important details such as the layout of the whole workplace, aisle marking, the adequacy of storage facilities, and maintenance. Good housekeeping is also a basic part of incident and fire prevention.
What is the purpose of workplace housekeeping?
Poor housekeeping can be a cause of incidents, such as:
tripping over loose objects on floors, stairs and platforms
being hit by falling objects
slipping on greasy, wet or dirty surfaces
striking against projecting, poorly stacked items or misplaced material
cutting, puncturing, or tearing the skin of hands or other parts of the body on projecting nails, wire or steel strapping
What are some benefits of good housekeeping practices?
Effective housekeeping results in:
reduced handling to ease the flow of materials
fewer tripping and slipping incidents in clutter-free and spill-free work areas
decreased fire hazards
lower worker exposures to hazardous products (e.g. dusts, vapours)
better control of tools and materials, including inventory and supplies
more efficient equipment cleanup and maintenance
better hygienic conditions leading to improved health
more effective use of space
reduced property damage by improving preventive maintenance
less janitorial work
improved morale
improved productivity (tools and materials will be easy to find)
How do I plan a good housekeeping program?
A good housekeeping program plans and manages the orderly storage and movement of materials from point of entry to exit. It includes a material flow plan to ensure minimal handling. The plan also makes sure that work areas are not used as storage areas by having workers move materials to and from work areas as needed. Part of the plan could include investing in extra bins and more frequent disposal
The costs of this investment could be offset by the elimination of repeated handling of the same material and more effective use of the workers' time. Often, ineffective or insufficient storage planning results in materials being handled many times and being stored in hazardous ways. Knowing the workplace layout and the movement of materials throughout it will help when planning work procedures
How to Clean a Bedroom (Because It's Filthier Than You Think)
This all-important room in your home gets seriously gunky.  And even though you spend roughly a third of your life there, the bedroom likely lingers low on your list of housekeeping priorities—all of which means this restful oasis is the secret hog pit of your home.
How to clean a bedroom
Look no further than our House Cleaning Guide on how to clean a bedroom right. To find out which areas need cleaning most—and the best way to make them immaculate—we interviewed professional housecleaners to get their insider tips on how to give this room the thorough cleaning it deserves
How to clean a mattress
Your mattress is ground zero. After all, you spend a lot of time there sleeping, snuggling with significant others, maybe even scarfing down late-night snacks. But that's all OK, provided you know how to clean the darn thing.
After removing all sheets and bedding, break out your vacuum cleaner. Attach the hand-held extension, then run it across the entire mattress surface, paying special attention to seams and crevices, which is where dirt, dust, and tiny particles of dead skin (eww) collect.
How to clean a mattress pad
Mattress pads come in an assortment of materials, including cotton, down, vinyl-backed, foam, and egg crate—and cleaning methods vary accordingly. In general, cotton, down, and vinyl-backed mattress pads can go in the washing machine using cold water and a mild detergent. Foam and egg crate pads, meanwhile, are more delicate and can tear if put in the washing machine; therefore, it's best to spot clean them with a solution made from equal parts water, distilled white vinegar, and lemon juice,
How to Establish a Simple Cleaning Routine and Stick to It
You could walk into our dorm room and instantly tell whose side was whose. My roommate's side always looked presentable and clean: bed made, desk neat, clothes put away. My side looked like a disaster area: blankets and sheets askew, books and newspapers covering my bed, and laundry only half put away. The mess on my little twin bed sometimes got so big and unmanageable that I'd just sleep on top of all my crap, like you see those crazy people do on Hoarders.
Thankfully, my roommate was quite patient with me and kindly nudged me to start routines that would keep our place looking spic and span. I soon discovered that keeping things clean didn't take all that much time or effort. In less than 30 minutes a day, we created a haven of order and tidiness that would make Mr. Clean (and my mom) nod with approval.
For many young men heading out on their own for the first time, maintaining a cleaning routine on their own wasn't something they had to do at home. Sure, they might have helped with chores when asked, but they probably had their mom or dad telling them what to clean and when. But keeping your dwelling space clean and tidy is important for a variety of reasons: it's hygienic, allows you to feel comfortable having people over (and inviting in surprise guests),
Establishing a Simple Cleaning Routine
The key to keeping your place clean is to break the job up into smaller daily and weekly tasks. A lot of young men won't clean anything for a few weeks, and then when the mess gets so huge it can no longer be ignored, have to spend a whole Saturday digging themselves out from under it. Or, the job begins to seem so enormous they can't motivate themselves to tackle it, and let the mess grow even bigger.
What to Do Daily
Instead of letting messes pile-up, making them more of a pain in the arse to clean come Saturday morning, invest 10 minutes in the morning and 10 minutes at night in a daily cleaning routine.