HOW TO ELIMINATE BLACK MOLD WITH AMMONIA
Wear a respirator and gloves when working with ammonia-based mold cleaning products. Never mix ammonia with chlorinated bleach
Open nearby windows or doors to get a cross-flow of air to dissipate any fumes generated by your cleaning (small mold cleanup projects – large jobs will require negative air pressure and sealing off area to prevent mold spores from escaping throughout residence)
Combine ammonia and water in 50/50 proportions.
Pour the solution into a spray bottle and spray contaminated areas evenly.
Allow the mold killing solution to sit for 5 or 10 minutes.
​Scour mold tarnished area with a small brush or equivalent and wipe clean.
Repeat if necessary.
Often enough, many mold killing products will have ammonia already in them. Be extra cautious to follow the directions on the label to the letter and ensure that the cleanser is never mixed with bleach (in part or whole)!
Otherwise, ammonia is similar to using bleach in that it should only be used on non-porous areas – Always wear gloves when working with any chemical and wash hands immediately, thereafter!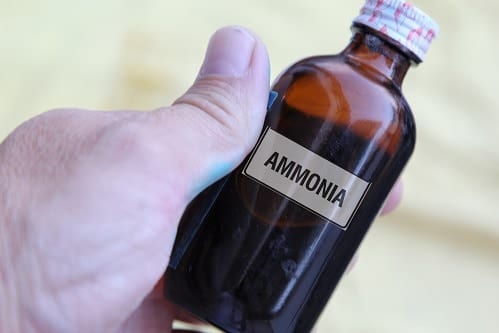 Mold Removal with Borax
There are many advantages to using borax to kill mold. For starters, borax is a natural cleaning product and although it is toxic if you swallow it, borax does not emit chemicals or dangerous fumes like some other mold killers. Borax, a white mineral powder, has a pH level of about 9 (baking soda is pH 8.1 and pH 7 is neutral) and a low toxicity.
Borax is commonly used as a deodorizer as well as for cleaning toilets and drains. Borax is also used as an insecticide, herbicide and fungicide and it can be mixed with water in a solution to kill and remove mold as it is a natural mold inhibitor. You can buy borax in supermarkets for a few dollars from the laundry section.
How to Kill Mold with Borax
To kill mold using borax, create a borax-water solution using a ratio of 1 cup of borax per gallon of water.
Vacuum up any loose mold with a HEPA filtered vacuum cleaner to lessen the number of spores stirred up into the air during the cleaning process.
Use a scrubbing brush with the borax-water solution to scrub the mold off the surface.
Wipe up any extra moisture and excess mold particles or dust/debris to prevent them spreading into the air once the surface has dried.
You don't need to rinse off the borax as the solution will prevent more mold beginning to grow on the surface again.
Leave the surface to dry completely.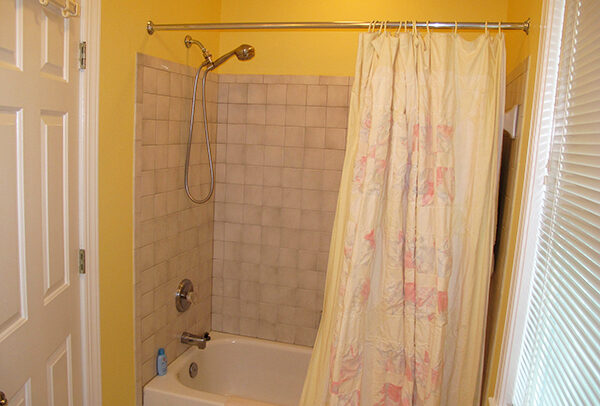 How Do You Use Vinegar to Clean Mold?
To safely and effectively clean a small area of mold, ServiceMaster advises the following:
Add full-strength white distilled vinegar to a spray bottle and spray it on the mold.
Let it sit for at least an hour before wiping away mold.
If you need follow-up scrubbing, combine one teaspoon baking soda with two cups of water. Pour it into a spray bottle, shake and spray it onto the mold. Scrub with a brush or scouring pad.
Rinse with warm water, then spray again with the vinegar and let it dry.
To protect yourself from mold and its spores, wear gloves, a mask and goggles. Gloves also prevent any skin irritation from the vinegar.
Where Not to Use Vinegar to Kill Mold
Because of vinegar's acidity, it can damage some surfaces. We don't recommended using vinegar on natural stone, waxed wood, cast iron or aluminum.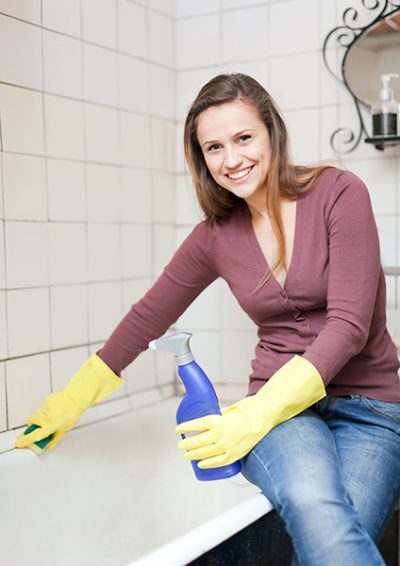 How to Remove Mold with Baking Soda
Unlike bleach, baking soda won't harm or discolor the tiles or present any health hazards to the occupants of the home. It will clean the affected area very well, but won't be as efficient in killing the mold spores as bleach.
There are several different ways you can use baking soda to clean the tiles and grout in your home:
Mix 1/2 cup baking soda with one gallon of water and spray the mixture on the affected area. Wait for about half an hour, then rinse the surfaces thoroughly with warm water;
Dip a damp sponge into pure baking soda and scrub down the tiles and grout with it. Rinse with warm water;
Stir 1/2 cup of baking soda and several teaspoons of water to make a paste you can spread directly over the mold. Apply the paste to the moldy grout, let it sit for 10 minutes, then scrub away with a bristle brush. Rinse with water and repeat, if necessary.
How To Remove Mold From Shower Caulk
Mold on shower caulk can be a little more difficult to remove sometimes, so the procedure is slightly different.
To remove mold from shower caulking you will need:
A small bowl or similar to mix a solution in
Some Bleach
Protective gloves
A respirator mask
Baking soda
Plastic wrap (the stuff from your kitchen is fine)
A disposable paint brush
Once you have your items, use the following steps to remove mold from shower caulk:
Put some baking soda in your bowl and slowly add small amounts of bleach until you have a paste-like substance (make more than you need, you don't want to run out and this is cheap stuff)
Grab the paint brush and use it to apply the paste to the mold
Use the plastic wrap to cover the paste on the mold – this may be a bit difficult depending on the location – just do what you can
Leave it to sit for at least 1 – 2 hours
Remove the plastic covering and clean off the paste (which may have dried out). If your mold is gone then you are done. If the mold is still there then start again