How Marble Flooring Can Make a Small Space Appear Larger
Many older homes feature rooms that are a little on the small side, and even a brand new house can have a kitchen or bathroom that feels claustrophobic. Before you put an addition on your home, consider making some decorative changes.
Sometimes the smallest adjustment can have a powerful impact and effectively make a small room feel large and luxurious. Here are a few of the ways that adding marble to tight spaces will make them look more spacious and welcoming.
Monochromatic Colors Fool the Eye
Choose a single color of marble with minimal veining to trick the eye and visually enlarge the space.
Light colors like Bianco Dolomiti are generally a smart choice because they naturally make areas feel larger. However, the consistent shading in Adalia Cappuccino will also work nicely.
Carried to the Vertical Surfaces
Another trick used by designers is to carry the flooring materials up onto vertical surfaces. The goal is to use it in small ways that will make a great impact, including on bathtub aprons and as baseboards.
When these materials match each other perfectly, the mind automatically assumes that the vertical surface is part of the floor. While people will logically realize that matching tiles have been used, that initial impression of spaciousness remains the same.
This method works beautifully with tiles in light to medium tones. It's commonly used with white or cream tiles, but you can create a stunning effect using light beige and even gray.
Larger Tiles, Fewer Grout Lines, More Spacious Effect
The tiles you choose are important, but how you space them is also a vital element of the room. When tiles are set a distance apart, the gap must be filled with grout.
Even when you choose a matching shade, grout lines will show across the floor.
When developing an intricate pattern, you want those lines to stand out to make the pattern more visible. Yet when you're trying to enlarge the room and make it feel more luxurious, you'll want those lines to be virtually invisible.
Light Colors Work Well in Small Areas
A general rule of thumb is that dark colors make a space feel cozy while light colors open it up. This is partly because shades of white and cream reflect more light to make any area feel larger and more welcoming.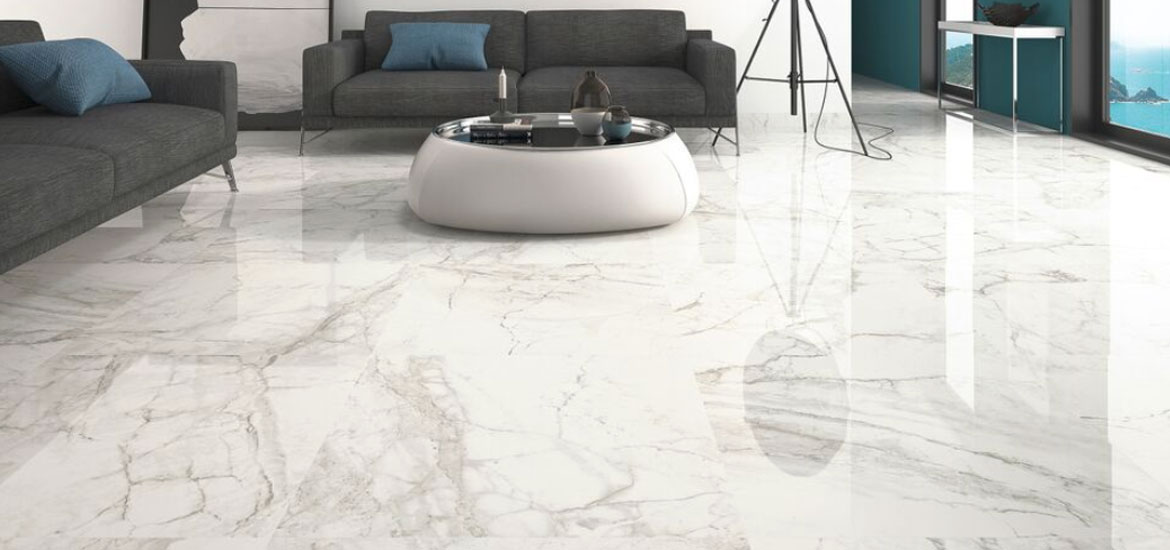 Marble Look Porcelain Tile
There is a big market for porcelain tile that looks like Carrara marble. Carrara look porcelain tile is a popular option because of how good of a job it does resembling the real thing. This is also one of the most highly recommended porcelain marble look tiles by many professional interior designers and decorators, as it encapsulates the smoothness, durability, and natural veining of the familiar Carrara tile.
As with natural marble, there are many different types of porcelain tile that looks like Carrara marble. Depending on the location of the marble, and the kind of impact you want to have, you will find a variety of colors and styles to match the look you prefer for your home.
Some popular Carrara marble-look porcelain tile brands include:
Tierra Sol
Olympia Tile
Ames Roccia Series Bianco Carrara
Julian Tile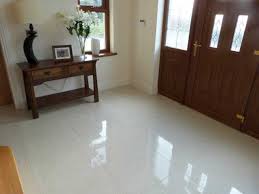 Marble tiles smaller than 2 feet across are most common in home installations.
Marble flooring comes in tiles of differing sizes, ranging from small, 2-inch by 2-inch squares, to large, 6-foot by 8-foot slabs. For residential purposes, marble tiles are rarely larger than 2-foot by 2-foot, because larger slabs, which are very heavy, require specialized installation. Large slabs are usually found only in commercial and public buildings. Tile thickness ranges from ¼-inch to ¾-inch for residential tiles, while commercial marble slabs can be up to 2 inches thick.
Quality also varies by surface design and density. While no industry standard exists, a few factors can tip you off to the tile's quality.
Mesh-backed tiles are mounted on a backing of fiberglass resin. These are typically lower-end marble tiles, which are often less dense and more prone to scratching or breaking. Mesh-backed tiles are suitable for low-traffic rooms, such as bathrooms, but they are less desirable in high-traffic areas where they may show signs of wear more quickly.
Lower quality tiles may feature filled areas. When you look at the tile straight on, you might not notice any difference, but if you turn the tile at a 45-degree angle, you might spot irregular dull patches, which indicate holes in the tile's surface have been filled with a resin compound. Over time, the filled areas may work loose, leaving holes in the surface that require patching.
Marble tiles with deep fissures are at a greater risk of breaking under the pressure of heavy furniture or appliances. When trying to determine the quality of a marble tile, turn it over and check the backside—if a fissure is noticeable on both the front and the back, the tile may crack is something heavy is placed on it.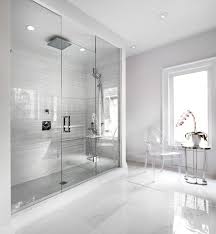 Floor Tile Designs So Good, They'll Make You Lose Your Footing
Modern and Architectural
Play with the classic grid pattern by giving it a more modern, architecturally inspired twist. The abstract bench cushions and wall-too-wall windows in this breakfast nook reflect the grid pattern in an interesting way, too.
Colorful Alfresco
Bring some oomph to your outdoor space with colorful tiles. These cheerful blue Mediterranean-inspired tiles make a small outdoor patio feel special.
Bold and Non-Repeating
Use a larger, non-repeating pattern in a bold and cheerful color to create a unique aesthetic in the bathroom. We love how the tiles extend from the shower throughout the rest of the space in this Arent & Pyke bathroom, ensuring visual flow.
Marble Ceramic tile Floor For Tiny Houses
Since marble floor tiles are actually being marketed by means of square foot, therefore you have to understand the dimension needed to have before you head out and also buy marble tiles. If you do not have sealant, start by carefully cleaning your flooring along with a strong detergent or astringent and also water. Laninate floor covering is designed of a level of plastic peak and bottom along with a hardwood sustance in between. Glazed floor tiles from distinct shades and forms are made use of extensively for bathrooms as it is actually immune to water spots.